Our family run yard is located in beautiful Redcross, Co Wicklow, we have excellent facilities including a large all weather arena, cross country fences, stabling and grazing. Oakwood stables are within easy reach of top showjumping venues, and two local hunts.
We specialise in coaching children and young riders who are interested in improving their showjumping, cross country and pony club riding. Whether looking for "fun or glory" let us bring out the best in you.
Amanda Dunne
Amanda has been involved with horses and ponies for many years and today works as a Horse Sport 'Level 2 Competition Coach' and is a Show jumping Ireland accredited competition coach.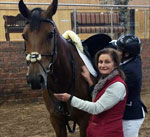 She enjoys helping children to build confidence, improve ringcraft, and learn more about their sport. Many of Amanda's students compete nationally in Ireland.
Gary Dunne
Gary has many years experience with horses and ponies, has competed at European Championships at both Junior and Young Rider level. Holds a Golden Saddle award and has produced many talented young ponies and horses including: Jam Delilah, Tippex, Pastmaster, Nutley Lane, Chevalier,Tippex Europa.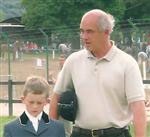 Gary also produced and started the very fine 148cm mare "More Clover" who went on to compete at the highest level including European pony showjumping championships in 2010 and Royal Dublin Society championships 2015. Gary has a very keen eye for spotting a future star and enjoys selecting and producing young stock.
In 2015 Gary has sold his home bred talented 148cm mare "Oakwood Daisy" to England to continue her showjumping career. One to watch for the future...
Our facilities include large all weather showjumping arena, cross country course with natural fences suited to junior riders, 50 acres of grass well fenced in small paddocks. Great local hacking around the Wicklow hills and forests. Adjacent to top class showjumping venues, 2 local hunts and hunter trial courses.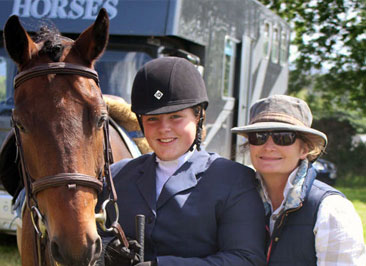 Contact Us