Staycation Pony Camp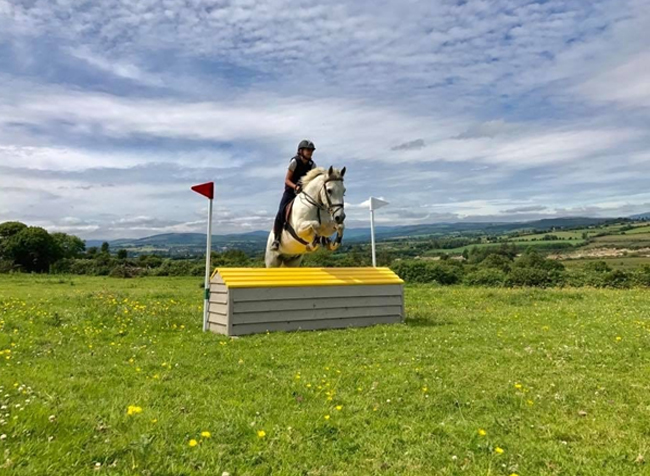 Staycation Pony Camp - New in 2021
Staycation Pony Camp – New for 2021!
This year at Oakwood Stables we would be delighted to welcome riders of all levels to join us for a staycation at our AIRE approved riding centre. During these long summer days we will work on improving your flatwork, showjumping and cross-country in a fun and friendly atmosphere.
Arrival
7-day camp: Arrive Sunday afternoon anytime from 3pm to settle in before your evening meal and have a chat with Amanda and family to plan for the coming week.
*Please note we also an option for younger riders to avail of a 5-day camp Monday to Friday.
Please contact Amanda for further information.
Daily Timetable
08.30 Breakfast
09.30 Prepare to ride, each session begins with a tack/equipment safety check
09.30 On day 1, each rider will be assessed and matched with a suitable pony/horse
10.30 Morning ride
12.00 Return to stable, care for ponies, groom, hay and water
12.30 Lunch
13.30 Stable management, riders will be taught how to prepare their own pony, check and clean equipment, develop a sense of responsibility and respect for their own safety, and for the comfort and well-being of their equine companion.
14.30 Afternoon ride
16.00 Return to stable, groom, hay and water, clean tack and put away all equipment
17.00 Rest and recuperation, a chance to shower and change before evening meal
18.00 Home cooked meal to be enjoyed all together in the kitchen

*Sunday timetable will vary depending on arrivals and departures
Morning and Afternoon
Rides will be approximately 1 ½ hours duration, and will include instruction on the flat, an introduction to showjumping and cross country, depending on riders experience and confidence. For younger or less experienced riders we will have an introduction to all disciplines over the week, a hack in the nearby forestry and of course some pony club games.
Evenings & Weekends
A choice of things to do in the evenings, depending on the weather, sports, games, barbecues, music, song and dance always plenty to do. On Friday's we will have some fun competitions and prize giving. Avail of a tour to one of many scenic locations or enjoy a local shopping trip or perhaps visit a local horse/pony show (subject to any government restrictions during specific holiday dates).
Accommodation
Situated in the very garden of Ireland, we welcome students to stay in our farmhouse or guest lodge. Bedrooms with en suite or adjoining bathrooms, meals will be enjoyed in our country kitchen, and relaxation in the family room. Alternatively, if we are fully booked we can arrange for students to stay with a carefully selected neighbouring host family. If you love all things equine, good food, atmosphere and the great outdoors we are sure you will have a fantastic time.
Contact us directly for prices: amanda@oakwoodstables.ie
Itineraries are subject to small changes seasonally and will be updated in line with any current restrictions.